Native Plant Gardening in the Heart of the Catskills
Note from The Denning Denizen: John Kuhner is a polymath who came to Denning through his love of gardening and nature. He lives off-the-grid in a one-room cabin on Wildcat Mountain. He has taught Latin, written a book about Staten Island, and worked as a landscaper, all of which he may do again if necessary. He writes prolifically and will hopefully be contributing regularly to the DD. Welcome, John! Thank you!
Among my friends who take an interest in gardening, I've gotten a reputation for being "the native-plant gardener."  They look on it as a kind of quirk – an idiosyncracy which is mostly harmless, though occasionally inconvenient and to a sensible person probably inadvisable – like dating only musicians, or keeping kosher.  But the further I go, the more convinced I am that this is the future of gardening, and that of all the places in New York State, there is probably no place where native-plant gardening is more enjoyable or more important than in the Catskills.
I didn't start out as a native-plant gardener.  When I look at my early designs for the cloister-garden I've been working on at my cabin on Wildcat Mountain, the plants I wanted were Algerian ivy, Japanese pachysandra, daffodils, and Yoshino cherries – none of them native.  All these plants make for good pictures.  But step by step my thinking has changed, and I have concluded that in a garden, as in a person, there is something more important than looks.
My interest in gardens began with an interest in trees.  Up until my mid-twenties, I was like most people: I could recognize about a dozen plants, and everything else was pretty much just greenery.  I then started dating a girl from North Carolina.  When I took my first trip to visit her parents, I was subtly amazed: there were pretty much the same trees in North Carolina, only – different.  I saw a tree that to me looked exactly like an oak tree – one of the dozen plants I knew – but then I saw its leaves were finger-shaped, with no lobes as you would find in an oak tree.  So I decided it couldn't be an oak.  Then I saw the ground under the tree was littered with acorns.  So – what was it?  It turns out that it was a willow oak, with unlobed leaves.  To me this was like taking a voyage on the Beagle and finding that the finches were all the same but somehow – different.
I bought myself Edward Sibley Barnard's excellent guide to New York City trees, and began learning the trees.  While doing that I began appreciating Frederick Law Olmsted's masterful Central Park – I was also reading at the time his superb accounts of traveling through the South just prior to the Civil War – and an interest in gardening was born.  I was teaching at the time, and I always found it hard to get to sleep at night, so I started reading gardening books.  It's a superb cure for insomnia, I have to say.  Since gardening books are expensive, I went to the library, and went through the entire gardening section, reading every book that struck my fancy.  One of the results of this was that I determined that I simply had to get a piece of land – which resulted in my purchasing six acres on Wildcat Mountain – and so in a small way it's those books that brought me to the Catskills at all.
One of the books I discovered was Sara Stein's Noah's Garden.  This book interested me in the library because its author clearly had some kind of purpose in writing the book – it was more than just a "let's look at the pretty flowers" book – and because it charted some kind of personal evolution.  Stein had fond memories of her childhood summers in the country with the frogs and butterflies and raspberries and woodchucks and fireflies and bats and things, and she purchased in her retirement a decent chunk of land in Westchester that had all those country virtues for her grandchildren to visit.  She then got to landscaping it and making it pretty, and in so doing she managed to drive away all the little animals she had loved so much.  The butterflies didn't visit her forsythias or hydrangeas or barberries or daffodils or Japanese cherries.  She was doing something wrong – she wanted to create a Garden of Eden, and the result was something like the cold order of a funeral parlor.
She recounts her backing off of all the accoutrements of proper modern gardening, from lawn chemicals to sterile plant cultivars (which set no seed and hence don't feed very many things; if a plant blooms for a long time, that's probably because it's  sterile, and blooms continually in frustration at its own inability to set seed).  Instead she plants milkweeds, and as if she had brewed a magic love potion, the monarch butterflies came back to her property; she plants coneflowers, and the finches return, and on and on.    
She found a new gardening principle, that a garden should nourish life.  A more scientific treatment of this same principle is found in Douglas Tallamy's book Bringing Nature Home.  Tallamy is a university entomologist, and he brings data to back up Stein's intuitions.  All life on earth is a form of energy derived from the sun; there is no other possibility.  We and all the plants and animals you see in your yard are solar energy – a thought worthy of Joni Mitchell and Woodstock for sure.  The only way this solar energy can be turned into animal matter is through plants.  Photosynthesis is the sole interface between sun and life.  Consequently, if you want to nourish life on earth, plant something.  Of course we'd all like to skip straight from pretty flowers to charismatic megafauna – roses and teddy bears, pretty much.  But as Tallamy points out, it doesn't work that way.  The food pyramid rests on a vegetable foundation, but the second course is insects.  And these insects, it turns out, are quite particular: with a few generalist exceptions (like Japanese beetles), insects can only feed on plants with whom they share an evolutionary history.  A monarch butterfly caterpillar can eat only the leaves of the North American genus Asclepias (milkweeds).  The karner blue butterfly has to eat lupines – and in fact it needs the North American species, Lupinus perennis.  (Unfortunately, gardeners are likely to kill off this species, because garden lupines (the Russell hybrids) are interbreeding into the Lupinus perennis population, and the karner butterfly caterpillars are killed by eating the hybrids.)  The tiger swallowtail we love so much here requires native trees: black cherries, pin cherries, mountain ash, and so forth.
Tallamy chooses to discuss only butterflies, in part because those are the only insects we humans want to care about (we often don't even want caterpillars in our garden, though we want butterflies – which is so dumb it's a little bit sad).  But even so the complexity of the system is astonishing.  The willows that we hardly even think about in the bed of the Neversink are the specific host for several dozen species of butterflies.  Take the willows away, and all those species go with them.  If you were to go into all the other orders of insects, you would be talking about thousands upon thousands of interconnected relationships with all the different plant species found in this area.  The complexity boggles human comprehension – basically every day at my cabin I see some kind of insect I have never seen before, each one hatching and reproducing and dying in tandem with the native plants, which are its only possible source of food.  (Bloom schedule is, for example, important in the system: the monarch butterfly migration is timed to the goldenrod bloom; mow the goldenrods and there go the monarchs' food for the trip down to Mexico.  The timing of fruit production is important as well: the most important food for migrating songbirds has been found to be Virginia creeper, whose berries go ripe in fall).
You can appreciate the system, but it's too complex to understand.  That's why the easiest solution is to plant natives: you know they are part of the system, and then you can let nature take its course.  I can go out to my garden and find completely different insects on my elderberry (the native species, Sambucus canadensis) and my Joe-Pye weed (Eupatoriadelphus maculatus), even though they are right next to one another.  Why some insects are on one, and others on the other, I could not tell you, nor can I tell you what they are.  They seem to know their own business well enough.
I know many people think of insects as being gross, but as Tallamy points out, if anything is indispensable in nature, after plants, it is insects.  Because I have insects, I have bats and spiders; because I have spiders, I have birds and shrews and toads and snakes; because I have birds and shrews and snakes the owls and hawks and coyotes and bobcats frequent my property.  And because of this complexity – I have more than thirty native-plant species in my garden, and intend to add more – no one part of the food pyramid gets out of hand.   This I have found to be true.  You can't control insects by adding ladybugs; but if you have predatory insects and shrews and snakes and spiders and birds no one species ever gets out of hand.  (In fact I hope that as the garden develops perhaps there will be fewer blackflies, but that may be a vain hope.)
Nature is filled with specialists, and specialists are the components of complexity.  Complex systems arise in nature because they are far more efficient at extracting solar energy.  If there is an insect that eats only Joe-Pye-weed leaf nodes, you can be sure that it has this niche because no other creature can possibly extract so much energy from a Joe-Pye-weed leaf node.  This means more energy gets passed on in the system, to the spiders and snakes and eventually all the way up to the "charismatic megafauna" – bobcats, people, teddy bears, etc.
But do we need to worry about this?  Joe-Pye weeds are found all over the town of Denning, growing in wet ditches by the roadside.  The answer is that we are almost the only people left who even can worry about this.  If you go elsewhere in the state you will find far fewer native plants.  There is competition in those roadside ditches.  One of the plants that is colonizing them is the very pretty garden escape you see all over the Catskills, the daylily (Hemerocallis fulva) or as we normally call them tigerlilies.  It's nice to think that they'll coexist with Joe-Pye weeds, but from what I've seen along Route 209, where the daylilies will completely take over low wet ground, I consider it more likely that the first few daylilies here in Denning mean the demise of the Joe-Pye weeds.  With them will go the rare Appalachian Jacob's Ladder (Polemonium van-bruntiae), found in a few chosen spots along the Neversink, our turtleheads (Chelone obliqua), and other wet-ditch species.  I just heard some gardeners here in Denning talking about how pretty they found the daylilies.  They are pretty; but as I've said, there's more to life than just looks.  Unlike the Joe-Pye weed, which is the host-plant for any number of insect species and an important nectar plant as well, the daylily is isolated from the animals it has an evolutionary heritage with.  (It's from East Asia).  The result is that the daylily is about as important to the food web here as asphalt is.  (One solution, by the way, is to eat them yourself).
Asphalt is fine in small quantities, and as we see when we drive on rainy nights, animals like toads can use asphalt as a hunting ground.  But you cannot get around the fact that it is biologically inert.  So are non-native plants: because they are separated from the specialist insects that live off of them, they cannot serve as the foundation of a rich, complex ecosystem.  A few here and there cause no trouble.  But plants like barberry or kudzu or Rosa multiflora, which begin in the garden but end up reproducing enough to transform entire plant communities, pose real ecological problems.  New York State south of here may be as much as forty percent nonnative plants – a massive transformation of the area's ecology, and one that is continuing.  This transformation is eating away at the edges of the Catskills, but has not yet quite arrived.  We have some barberry plants here in Denning – along the Neversink, in people's yards, along town hall – but in places like New Jersey you almost don't have any other shrub.  Purple loosestrife – a very pretty and terribly invasive plant – is in Grahamsville.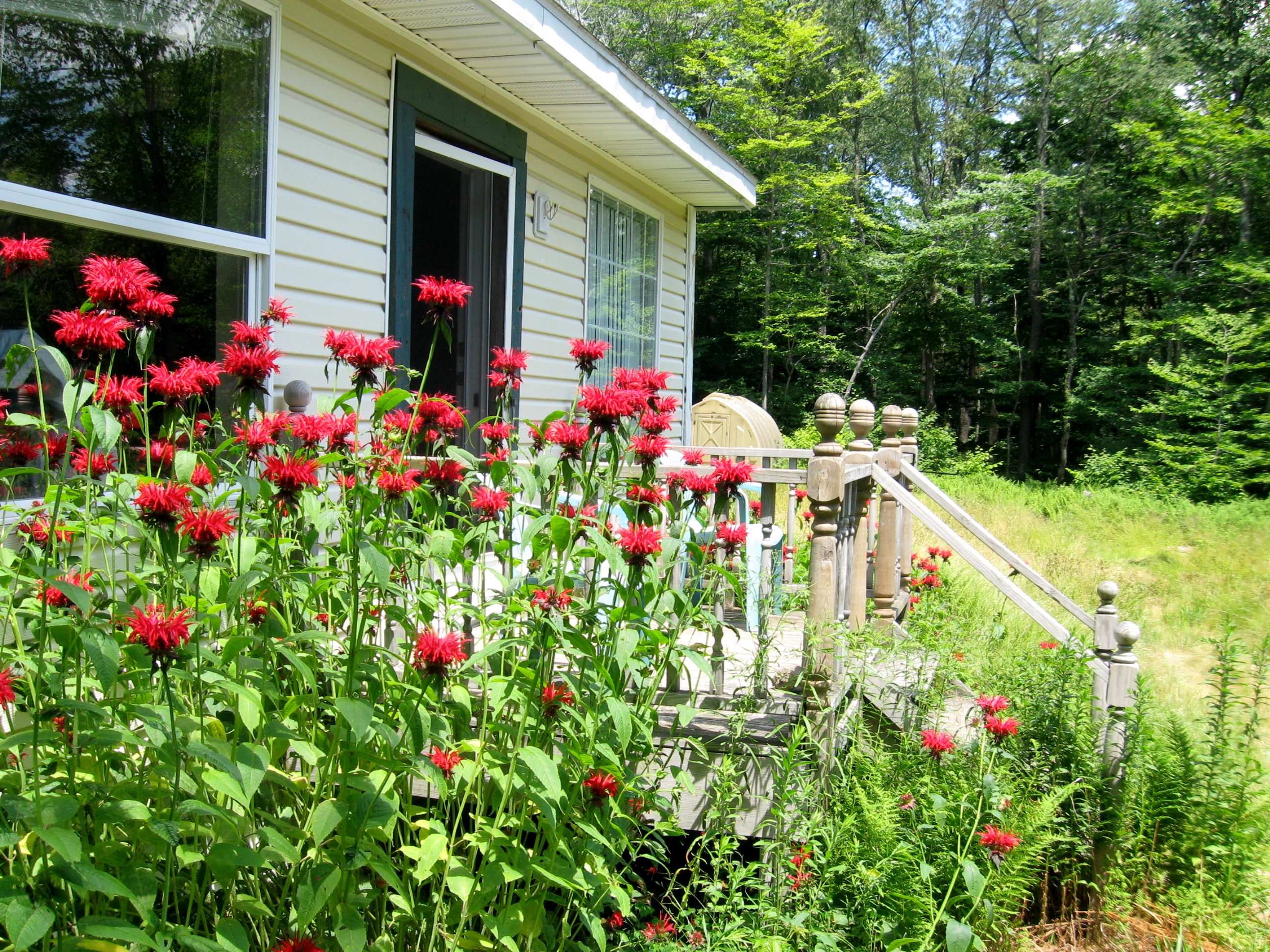 We do not realize what we have here.  We live in one of the last wild areas of New York State.  The area's ecological value comes largely from the fact that there is so much unbroken and contiguous wilderness here.  This makes it possible for large animals like bears to live comfortably here.  It also makes it hard for invasive species to break in to break apart the fabric of the forest.  The tears in the fabric, however, and hence the most vulnerable places in it, are the very places where we live.  It is more fragile than it appears.  Daylilies may line the Neversink some day, and barberry may be the dominant understory shrub in our forest, and if that happens, it will be because gardeners thought the daylilies and barberries would look good in their gardens.  But if we practice native-plant gardening here, we can make even our properties part of the continuous wilderness.  We can do this by planting the species in our clearings that would normally grow in these clearings.  If you do this, you can make your home a nourisher of life: your Monarda (beebalm - pictured) and Penstemon (beardtongue) and Aquilegia (columbine) and native Impatiens (Jewelweed) will nourish the hummingbirds.  Your raspberries and blackberries and blueberries will nourish not only you but the birds and raccoons and chipmunks as well, and the tiger swallowtails and bees to boot.   Even if you plant something like a Pawpaw (Asimina triloba), which is found today only in the Southern Appalachians, the raccoons will show up to eat it: the two share an evolutionary history, and the raccoons will have an instinctual memory of the plant.  These things you can see and understand: but while we're at it let's plant other natives, even if we don't yet know what their virtues are.  We may be doing something good and important, like loving someone, without even knowing quite how it works.  And when we see the life flourishing at our front door, and the Catskill forest remain wild and beautiful and undisturbed, we will know that another name for "the peace that passeth understanding" is nature.